Yongchun Fang, Ph.D. 2002
Co-advised with Dr. Darren Dawson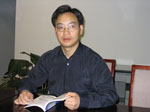 Yongchun Fang received his doctiral degree under the advisement of Dr. Dawson (chair) and Dr. Dixon (co-chair) in Electrical Engineering from Clemson University, Clemson, SC, in 2002. From 2002 to 2003, he was a Postdoctoral Fellow at the Mechanical & Aerospace Engineering Department of Cornell University. He joined the Institute of Robotics and Automatic Information System, Nankai University, Tianjin, P. R. China in 2003, where has been a professor since then.